Announcing....
The SD:R Project has been pushing ahead at full steam since early this year - and the Alpha release is scheduled for July August 2012!
Alpha testers are needed for Android mobiles and JAVA-enabled desktops: do you have what it takes to pilot the Sundog?



UPDATE - JULY 30, 2012: Well... it looks like we are going to miss our July deadline for the Alpha release by a little bit. We are working hard to implement the last remaining features and systems of the game, in addition to squashing bugs. Obviously, the Alpha release isn't going to be bug-free and will lack a few features that will be in the final game, but we're trying to stomp out as many bugs as possible before the release.

So for those that have filled out applications to be Alpha testers, hang tight! We have your applications on file and once the Alpha is prepared for release, we'll contact you by email with instructions. We will also publically announce that the Alpha has been released, so everyone will know what the game's status is.
---
UPDATE - July 22, 2012: The applications for Alpha testing are out! Please check the Alpha Testing page to learn more!
---
UPDATE - July 12, 2012: The SD:R conversation engine is nearing completion, additional artwork has been drawn, including some animation sequences, and we are working on sound effects at this time. Implementation of the attributes for the original items and the dozens of brand new items, including interstellar price and availability variations, are complete (with the exception of a few bugs that need to be squashed).

DO YOU KNOW SOMEONE WHO USED TO PLAY SUNDOG?
If so, give them a heads up on this project.
SD:R should deliver nostalgia and fresh adventure in equal doses!
---
UPDATE - July 2, 2012: Work is still progressing at a rapid pace. We are currently implementing the conversation engine, which retains some of the familiar language of the original game, even including those hopelessly corny jokes. However the SD:R version pushes the conversation further with a vast array of new potential responses from the NPC and adds new twists. We also just added a number of new items to the game's inventory, such as new player-buffs (would anyone like some snarevine protoplasm?), foods (do you really want to eat a veined sponge?), and special parts for the ship to enhance its capabilities (how about a venturi injector?). There is also bug-repair and graphics-fix work being done as well. At this point, we do not have a solid date yet for an Alpha, but it will happen and it will be soon. Stay tuned!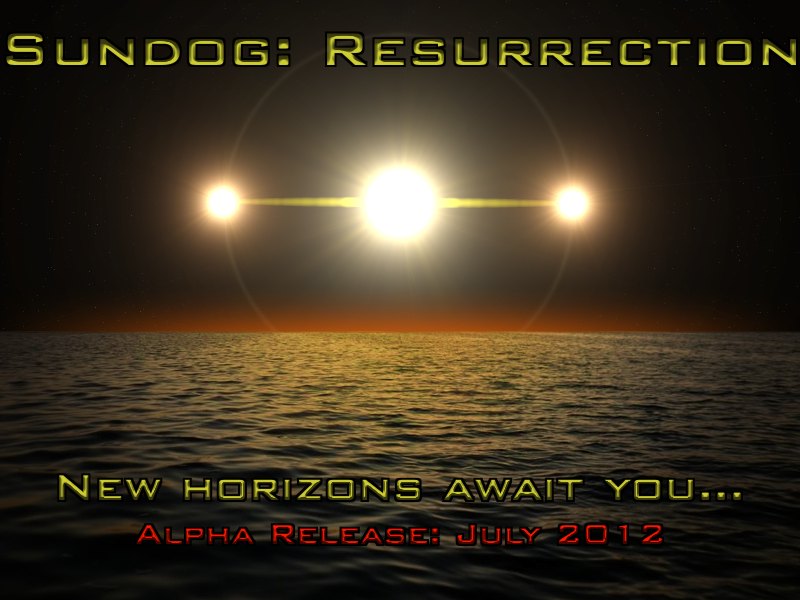 Number of Sundog captains stopping by here since
August 2007: